STYLIST CONSENT AND EXPECTATIONS
Thank you for your interest in becoming a stylist for the Healthy Hair Matters Foundation (HHMF) program. In order to best serve you and our girls, we developed the Stylist Consent and Expectations form. Along with our mission, vision, and core values, this will serve as a guide to ensure that everyone has the best experience possible. Please read over it carefully and completely fill in the required information.
We look forward to you joining our team and using your gifts and talents to impact the lives of teen girls in Metro Detroit.
PARTICIPATION REQUIREMENTS
Must obtain a Child Protective Services (CPS) clearance. They are free of charge.

Must take two advanced hair related courses annually.

Must use a professional line of products approved by HHMF.

Must be neat and have a tidy work area.

Must keep one's own hair serviced.

Must be prompt and not have HHMF student waiting with more than two clients ahead of her.

Must be passionate about their craft.

Must not watch inappropriate television shows or play inappropriate music in the salon.

Must not use profanity in the presence of the student.

Must be kind and 'customer friendly.'

Must commit to work with the student through high school graduation (9th – 12th grade).

Must sponsor a table of eight (8) for the HHMF Annual Fundraiser Dinner. Stylists may sell and/or donate their eight (8) tickets.
*Please download and review the expectations form for additional information given to the student and parent/guardian of HHMF members.
You can mail your submission to:
Healthy Hair Matters Foundation
3434 Chene
#7373
Detroit, MI 48207
You may email your submission to:
Become a Stylist
hhmfoundation
2019-08-24T00:34:28-04:00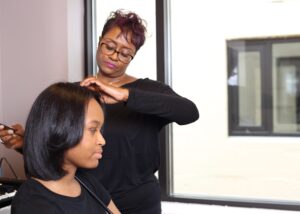 Become a Stylist – 2
hhmfoundation
2019-08-24T00:39:29-04:00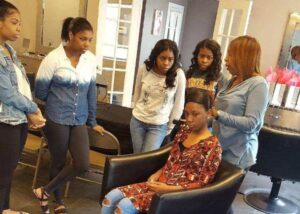 Become a Stylist – 3
hhmfoundation
2019-08-24T00:34:32-04:00